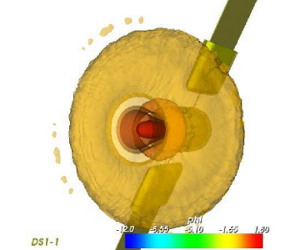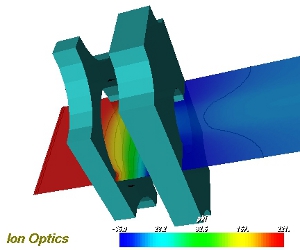 Particle simulation of ion optics
Particle In Cell Consulting LLC is a Virginia-based company specializing in development of scientific tools for the plasma physics, rarefied gas, and spacecraft contamination communities. We specialize in the following:
Development of plasma simulation codes using the Particle In Cell (PIC) method
Analysis of molecular gas dynamics including venting and transport analysis
Supporting spacecraft thermal vacuum testing and component bakeouts
Performing analysis of contamination transport and electrostatic return
Optimizing existing codes, and performing parallelization utilizing modern cloud services
Developing interactive websites using technologies such as HTML5 and webGL
Assisting with organizing technical conferences and workshops
You can learn more about us and our work on our projects page, and also from our past publications. Please contact us if you have any additional questions or would like to submit an RFP. You will also find us @particleincell and on LinkedIn.
This site also features a popular scientific computing blog, where you will find articles discussing topics relevant to plasma physics and rarefied gas modeling, as well as code optimization, and data analysis. You can subscribe to start receiving blog
updates via email. Simply enter your email address below and press Enter to subscribe.