Plasma Physics and Scientific Computing Blog
Our blog features regular articles on numerical methods for plasma and rarefied gas simulations. Subscribe to the newsletter to avoid missing any articles. Interested in publishing your own research? Send us an email.

Computing pi with CPUs, GPUs, threads, MPI, Javascript, Arduino, and FPGAs
This year, for "pi day" (March 14th), I figured I'll post a short article demonstrating how to estimate the value of π using different computer architectures. This topic is somewhat in line with the ASTE-499 Applied Scientific Co...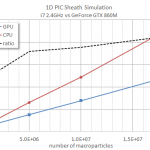 Brief Intro to GPU PIC with CUDA
This post shows how to develop a PIC plasma simulation code that uses NVIDIA CUDA to perform computations on the graphics card (GPU). Even without any optimization, the GPU version runs almost twice as fast as the CPU version for a large number of pa...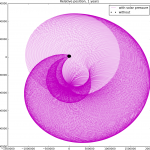 Particulate Contamination Transport on Orbiting Satellites
Particulates launched from an orbiting object may intersect the satellite on a future orbit and cause contamination of surfaces beyond the line of sight of the originating surface. This post describes a simply Python code that was developed to model ...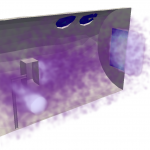 Detailed Surface Model
New detailed model was developed for the space-surface interface. Instead of using sticking coefficients, the model uses residence time to determine if a molecule "sticks". Adsorbed molecules are added to a surface layer and objects can also contain ...