Starfish, a 2D plasma / rarefied gas solver
We are currently developing a 2D rarefied gas / plasma simulation code called Starfish. The code is quite versatile and is applicable to a wide range of problems, including: simulations of space plasmas and ion sources, neutral particle transport, interactions with surfaces, and chemically-reacting discharges. The code exists in two versions: Starfish-LE and Starfish. The LE version is an open-source light-weight version containing the basic code framework and only the rudimentary physics (i.e. uniform sources, constant collision cross-sections, and so on). It can be download from our SVN repository. It is free for personal and academic research. It also probably contains a number of bugs. The code is still being developed and has not been tested all that thoroughly. We are hoping that by releasing the source this early in the development cycle will let us find the bugs with your help. Please use the tickets tool to report any errors that you encounter. The code also does not come with any documentation (yet), but we have put together a tutorial to get you started.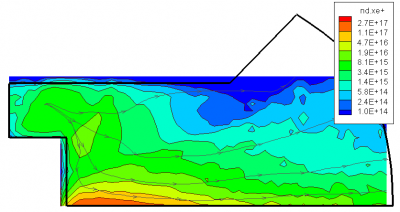 The full-version acts as a plugin that extends the functionality of Starfish-LE. It supports among other things:
2D planar and axisymmetric geometry
Multiple rectilinear or elliptic computational meshes
Surface definition as a collection of linear or cubic splines
Arbitrary number of materials, with support for both fluid and kinetic species
Particle-in-cell method for kinetic materials
MHD solver for fluid species
Material interactions supporting fluid-fluid chemical reactions, particle-fluid MCC, and particle-particle DSMC
Support for material outgassing, surface chemistry, deposition, and sputtering
Number of available injection sources such as Maxwellian or disretized VDF
Multiple electro-magnetic solvers
Coupling with our Lynx and Sheath2D codes for multiscale Hall thruster analysis
XML input data structure and simulation results in Tecplot or VTK formats
The full version won't be available for at least few more months (late 2013), however, many of the above features have already been implemented. In addition, we are open to development of custom plugins to support your project. Please use our RFP form to get in touch with us. Please note, the full version of Starfish will be available only to US citizens due to containing some potentially export-controlled technology.