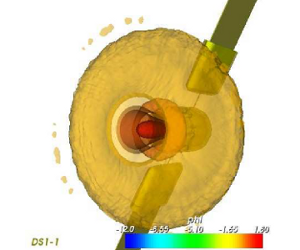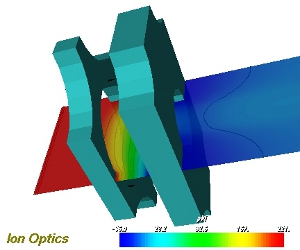 Particle simulation of ion optics
Particle In Cell Consulting LLC is a Virginia-based company specializing in providing engineering services to the electric propulsion, space environments, and contamination control communities. Our capabilities include:
Performing plasma simulations with codes based on the Particle In Cell and/or MHD method
Simulating spacecraft / environment interactions from electric plasma propulsion thrusters
Modeling contamination transport, including plume impingement, particulate fallout, electrostatic return, and molecular deposition
Simulating gas kinetics, including purge effectiveness
Assisting with general scientific computing needs such as optimization, parallelization, and data analysis
We also regularly offer courses on various plasma simulation topics. You can learn more about us and our work on our projects page, and also from our past publications. Please contact us if you have any additional questions or would like to submit an RFP. You will also find us @particleincell, LinkedIn, and GitHub.
This site also contains a scientific computing blog, where you will find articles discussing topics relevant to plasma physics and rarefied gas modeling. You can subscribe to start receiving blog
updates via email. Simply enter your email address below and press Enter to subscribe.