Plasma Physics and Scientific Computing Blog
The goal of this blog is to provide you with useful, handy, and easy to understand tutorials on a broad range of topics related to scientific computing and plasma simulations. Although we concentrate on plasma modeling and electric propulsion thrusters, we hope the information presented here will be useful to people from many different disciplines. Our goal is to present the articles with a sufficient detail so that you can implement your own version of the algorithm being described. Where practical, we also include a short sample code in one of the popular programming languages (such as C/C++, Java, or Matlab).
Are you interested in publishing your article here? See the submission guidelines (pdf) to get started.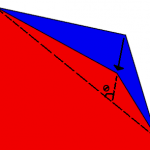 Surface Erosion
Every time a particle impacts a surface there is a chance that it will knock off or "sputter" some material from the surface. Over time this can cause noticeable degradation in high flux areas such as Hall thruster channels, electrostatic acceleration grids, etc. Even structures far downstream of a thruster can erode over time if they are near the main plume. This article explains the basic algorithms involved in determining how a surface will erode when exposed to a given flux.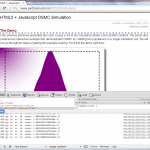 HTML5 + Javascript DSMC Simulation
Details of the Javascript implementation of the Direct Simulation Monte Carlo (DSMC) method and a how to guide to plotting animated simulation results with Javascript and HTML5 canvas element.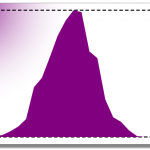 Direct Simulation Monte Carlo (DSMC) Method
DSMC, or Direct Simulation Monte Carlo, is a particle based method for simulating gas kinetics. Popularized by G.A. Bird in the 60's, this method is now commonly used as an alternative to CFD. In addition, DSMC is commonly combined with PIC codes to include collisions in plasma simulations. This article demonstrates the method with an interactive HTML5 DSMC demo.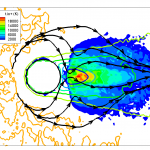 Starfish Tutorial Part 5: MCC, DSMC, and Chemical Reactions
The final part of the multipart Startfish tutorial. In this part we discuss adding material interactions, including chemical reactions, Monte Carlo Collisions (MCC), and Direct Simulation Monte Carlo (DSMC).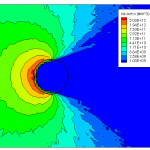 Starfish Tutorial Part 4: Steady State, Surface Flux, and Averaging
Part 4 of the multi-part Starfish tutorial. In this part we add commands to export surface properties such as surface flux, learn about steady state, and setup data averaging.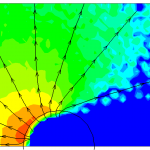 Starfish Tutorial Part 3: Surface Interactions
Part 3 of Starfish plasma simulation solver tutorial. Here we introduce surface interactions and modify the input files to simulate the recombinations of ions at the surface of the cylinder.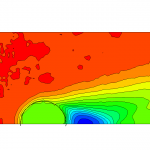 Starfish Tutorial Part 2: Particles and Animation
The second part of the multi-part Starfish tutorial. In this part we add particle sources to simulate flow of plasma over a cylinder. We also introduce animations.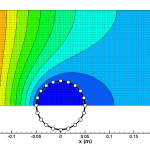 Starfish Tutorial Part 1: Domain, Boundaries, and a Potential Solver
The first part of the multi-part Starfish tutorial. In this article we introduce the input files needed to setup a simulation for a flow of plasma over an infinitely long cylinder.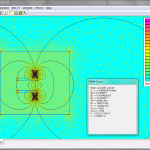 Exporting Magnetic Field from FEMM
FEMM is a powerful (and free) 2D magnetic, electrostatic, and heat transfer solver. FEMM contains a nice GUI for defining and analyzing the problem. It does not contain an option for exporting the results. However, you can export the results from FEMM easily with a simple LUA script.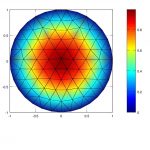 Finite Element Experiments in MATLAB
Collection of examples of the Continuous Galerkin Finite Element Method (FEM) implemented in Matlab comparing linear, quadratic, and cubic elements, as well as mesh refinement to solve the Poisson's and Laplace equations over a variety of domains.