Plasma Physics and Scientific Computing Blog
Our blog features regular articles on numerical methods for plasma and rarefied gas simulations. Subscribe to the newsletter to avoid missing any articles. Interested in publishing your own research? Send us an email.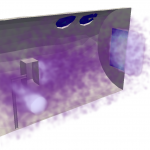 Detailed Surface Model
New detailed model was developed for the space-surface interface. Instead of using sticking coefficients, the model uses residence time to determine if a molecule "sticks". Adsorbed molecules are added to a surface layer and objects can also contain ...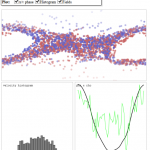 Two Stream Instability Javascript Simulation
Particle In Cell (PIC) plasma simulation of two-stream instability implemented in Javascript and running in your browser. Two cold beams interact with each other until streaming is destroyed and particles become trapped in phase space vortices.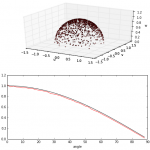 Modeling Diffuse Reflection (or How to Sample Cosine Distribution)
Molecules impacting surfaces reflect either diffusely or specularly, Since diffuse reflection is more common, it is important to model it correctly. In this article we discuss how to model diffuse reflection by sampling from Lambert's cosine law.

Converting Scalars to RGB Colormap
We can visualize variation of mesh-based scalars by converting each scalar to a color with the help of some colormap. This article describes how to convert a scalar to the rainbow colormap, which ranges from blue to red as the value increases from t...